站长姬的话
Happy 808 Day!

这个经过专业母带处理的TR-808原声采样包既可简单地作为采样包使用,也能载入Kontakt使用哦!
简介
[v_notice]
以下内容转载自Midifan的文章来下载免费的 NI Kontakt 格式的 TR-808 鼓机音色采样 BPB Cassette 808。
[/v_notice]
Bedroom Producers Blog(Bedroom Producers 博客)发布 BPB Cassette 808,这是一个免费的 Roland TR-808 鼓机采样合集,带有原音和磁带处理的采样。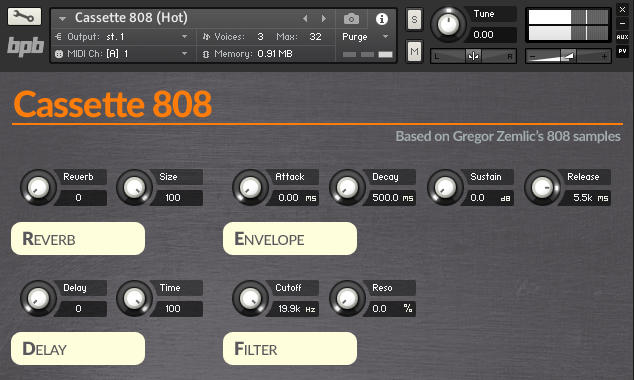 原 Roland TR-808 的声音由 Gregor Zemljic 在它的母带工作室录制,经过了高端的信号链并做了微妙的低频增强。BPB 还从旧音频卡带重采样了一些 Gregor 的原录音,提供了不同的 LoFi 的经典 808 鼓声。
除了 24-bit WAV 格式的单个采样,这个库还包含了三个适用于 NI Kontakt 5 的音色集。这些 NKI 音色带有一个简单定制的用户界面,提供了对低通滤波、包络,混响和延迟控制的直截访问。
包含内容:
总计 87 音频采样(24-bit WAV 格式)
3 个 NKI 格式乐器音色
9 MB 下载大小(ZIP)
更多说明
BPB proudly presents Cassette 808, a free collection of tape processed 808 drum machine samples, based on the excellent source material provided by Gregor Zemljic. To make things even better, we have included a selection of fully chopped up one shot samples from Gregor's original 808 recordings.
Well, these samples have definitely spent enough time collecting dust on our HDD and we figured this is the right moment to share them with the world. Cassette 808 is based on an amazing set of 808 drum samples that was recorded by Gregor Zemljic of Earrisistible Mastering way back in 2010.
The samples were recorded in Gregor's mastering studio using the following recording chain: Radial JDI – Neve 1073 DPA – Crane song Ibis M (very slight low end/hi-end boost + HPF @ 20Hz) – Crane song STC 8 (very light compression to add a bit of punch) – Crane song HEDD AD @ 24/44.1kHz.
Gregor's original 808 recordings are among the best (if not the very best) 808 drum machine samples that can be downloaded for free. However, the problem is that Gregor's source material was provided as a collection of recording sessions, each included as a rather long WAV file. In other words, the original 808 sound set wasn't ready to use in a sampler out of the box.
That's why we decided to contact Gregor and ask him if we could edit his recordings and turn them into a ready to use sample collection. Thankfully, he said yes!
The result is Cassette 808, a 100% free sample pack consisting of three kits:
Clean Kit – 47 clean 808 drum samples. These are Gregor Zemljic's original samples, trimmed and edited for easy use in your sampler instrument of choice.
Warm Kit – a set of 22 808 drum samples that were resampled from an audio cassette at low gain. Slightly noisy and warmed up.
Hot Kit – same as the previous kit, but this time around the gain was super high. These samples are seriously distorted and gritty, so watch your speakers.
Each kit also comes with a ready to use NKI patch for Native Instruments Kontakt 5. The NKI patches feature a simple custom user interface with direct access to the volume ADSR envelope, low-pass filter cutoff, and resonance, as well as a built-in reverb and delay module. If you create SFZ patches (or patches for any other sampler format), please send them over and we'll include your patches in the pack (and credit you, of course).
演示视频
下载
链接: https://pan.baidu.com/s/1m73tNgbSrzUJtLuHtx7dqw 密码: 7de3
THE END
如果萌未来对您有帮助的话,可以捐助萌未来哦!(〃'▽'〃)谢谢!